Glass Strengthening - Chemical & Heat Tempering
Service Detail from Abrisa Technologies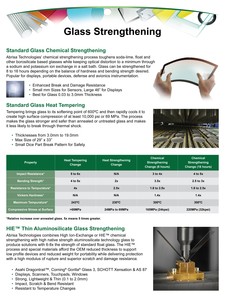 Abrisa Technologies' chemical strengtheningprocess toughens soda-lim, float and other borosilicate based glasss while keeping optical distortion to a minimum through a sodium and potassium ion exchange in a salt bath. Provides for:
Enhanced break and damage resistance
small mm sizes for sensors, large 46" for displays
Best for glass 0.03 to 3 mm thickness
Heat tempering makes the glass stronger and safer than annealed or untreated glass and make the glass less likely to break through thermal shock.
Thicknesses from 3.0mm to 19.omm
Max size of 29" x 33"
Small dice break pattern for safety
HIE Thin Aluminosilicate Glass Strengthening produces glass with 6 to 8x the strength of standard Flot glass. The HIE process delivers protection with a high modulus of ruypture and superior scratch and damage resistance.
Asahi Dragontrail, Corning Gorilla Glass, SCHOTT Xensation & AS 87
Displays, scanners, touchpads, windows
Strong, lightweight & thin (0.1 to 2.0mm)
Impact, scratch & bend resistant
Resistant to temperature changes