ITO/IMITO High Transmittance Coatings for EMI
Service Detail from Abrisa Technologies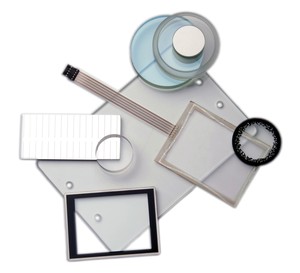 ZC&R Coatings for Optics, a division of Abrisa Technologies, provides Indium Tin Oxide (ITO) and Index-Matched Indium Tin Oxide (IMITO) transparent, high transmittance conductive coatings which are extremely useful in EMI shielded windows for sensors and displays, heated outdoor camera windows, liquid crystal based polarization devices, and photovoltaic cells. The high transmittance IMITO solutions can be designed with sheet resistances below 5 ohms per square.
These IMITO solutions inhibit the effects of EMI (Electro-Magnetic Interface), RFI (Radio Frequency Interface), and ESD (Electro-Static Discharge). By using an ITO coating solution from ZC&R Coatings for Optics, EMI, RFI, and ESD are minimized and may be virtually eliminated; improving reception and overall performance of electronic devices. Instrument operators and communications devices will have clearer signals and improved communication channels due to the coating's effectiveness.
The ITO and IMITO coatings can be applied to a wide variety of technical and commercial glass substrates and may be applied in conjunction with other ZC&R coatings for a highly custom, application-specific solution.
The optically transparent and durable ITO and IMITO coatings are most often used where low resistance and high transmission are required. ZC&R's high transmittance coatings are resistant to flaking, peeling, cracking, delaminating, and crazing. Humidity, abrasion, adhesion, and salt-fog should be considered when selecting a coating prior to application for best results.
Integrated durable Bus Bars can be provided with tri-metal or precision printed high temperature silver epoxy for electrical contact.