Non-Glare Glass Breaks Up Incident Light
Featured Product from Abrisa Technologies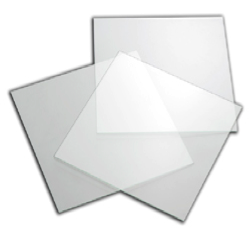 Abrisa Technologies' non-glare glass breaks up incident light reflected images, allowing the user to focus on the display image instead of reflected images. Unlike anti-reflection coated or untreated surfaces, non-glare does not become highly reflective as a result of oily finger prints.
Our non-glare glass is manufactured by a controlled acid etch process yielding uniform diffused surfaces for non-glare, high resolution, anti-Newton ring applications. Varying levels of diffusion specified as gloss level yield different levels of anti-reflection. A lower gloss reading denotes a more diffused panel. The more diffused the panel surface, the more anti-reflective properties it provides. However, an inverse relationship exists between the degree of diffusion and the panel's resolution.
Non-glare can be laminated, tempered or chemically strengthened. Stock sizes, thicknesses and gloss as listed are in stock and can be readily shaped to your specifications. Custom thickness, sizes and gloss ranges from 50° to 120° on request.
Guide to Glass - The Selection Process
Selecting Glass to Meet Requirements
Different types of glass possess different qualities depending upon their chemical makeup and how the glass was produced. Choosing the right glass for your application requires understanding the different physical properties each has.
Watch>>>Abrisa Technologies Capabiities Video
Abrisa Technologies is a recognized global supplier of high quality, fabricated glass components, optical thin film coatings, and custom glass solutions for a wide variety of industries. From our US based Abrisa Industrial Glass fabrication facility in Santa Paula, CA and our ZC&R Coatings for Optics division in Torrance, CA we serve diverse industries such as microelectronics and displays, semiconductor, military, automotive, aerospace, medical, biomedical and scientific R&D. We provide custom specialty flat glass and coating products for applications such as: flat panel display, touch and gesture recognition; visible to IR imaging and surveillance; entertainment, indoor and outdoor lighting; advanced instrumentation; and photonics.
Resource Center