Optically Clear Borofloat Glass
Featured Product from Abrisa Technologies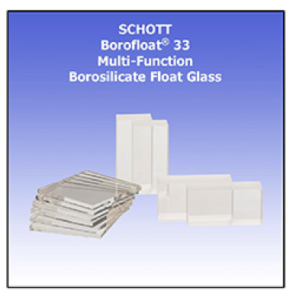 Download this Borofloat® information as a pdf
SCHOTT Borofloat® 33 borosilicate is a versatile glass with infinite applications. The unique float glass is manufactured in a process which results in a homogeneous material that has an excellent mirror-like surface, a high degree of flatness, and an outstanding optical quality.
Borofloat® 33 is a clear and transparent colorless glass with excellent transmission and its very weak fluorescence intensifies over the entire light spectrum making Borofloat® 33 ideal for a wide range of applications in optics, opto-electronics, photonics, and analytical equipment.
Has a low thermal expansion, high shock resistance, and the ability to withstand temperatures up to 450ºC for long periods, making it a good choice for applications requiring temperature stability.
Is highly resistant to attack by water, strong acids, alkalis as well as organic substances which make it suitable for use in the chemical industry with applications such as sight glasses for reaction vessels and fitting.
Has a lower density than soda lime float glass making it possible to construct lightweight laminated glass systems (e.g. bulletproof glass).
Provides a high transmission of ultraviolet, visible, and infrared wavelength.
Its low alkali content makes it a good electrical insulator.
Its high boron content can be used as a neutron absorber glass for nuclear energy applications.
Is environmentally friendly and made of natural raw materials. The glass can be recycled several times.
Can be waterjet and laser cut, can be provided with arrissed, beveled, ground or polished edges, it can be coated (anti-reflective or AR coated) thermally toughened/strengthened, screen printed, sand blasted, surface polished, and drilled.
Guide to Glass - The Selection Process
Selecting Glass to Meet Requirements
Different types of glass possess different qualities depending upon their chemical makeup and how the glass was produced. Choosing the right glass for your application requires understanding the different physical properties each has.
Watch>>>Abrisa Technologies Capabiities Video
Abrisa Technologies is a recognized global supplier of high quality, fabricated glass components, optical thin film coatings, and custom glass solutions for a wide variety of industries. From our US based Abrisa Industrial Glass fabrication facility in Santa Paula, CA and our ZC&R Coatings for Optics division in Torrance, CA we serve diverse industries such as microelectronics and displays, semiconductor, military, automotive, aerospace, medical, biomedical and scientific R&D. We provide custom specialty flat glass and coating products for applications such as: flat panel display, touch and gesture recognition; visible to IR imaging and surveillance; entertainment, indoor and outdoor lighting; advanced instrumentation; and photonics.
Resource Center