P-Plane or S-Plane Polarization - AR Coatings
Service Detail from Abrisa Technologies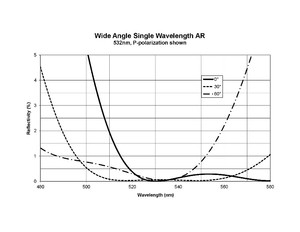 Abrisa Technologies now offers very wide angle anti-reflection (AR) coatings for p-plane or s-plane polarization.
These coatings support high throughput efficiency for broad angle polarization sensitive applications such as:
Switchable Bragg gratings
Spatial light modulation (SLM)
Laser scanning applications
Near-to-eye display components
Telecommunications
Other low-loss wide-angle applications
Durable hard dielectric anti-reflective (AR) layer construction enables use of these coatings in "tough" outdoor and harsh industrial environments. Oleophobic and hydrophobic coating options are available for enhanced easy-to-clean performance.
According to Lisa Tsufura, Product Manager for Precision Coatings, "These wide angle AR coatings can be tailored to a host of popular laser wavelengths including 405nm, 460nm, 532nm, 633nm, 650nm, 904nm, 1064nm and 1550nm to help minimize reflection losses to values on the order of 0.10 to 0.75% over large 0-60 degree angle range for maximum throughput efficiency and signal collection."