Robust Screen Printed Graphics - Glass/Optics
Service Detail from Abrisa Technologies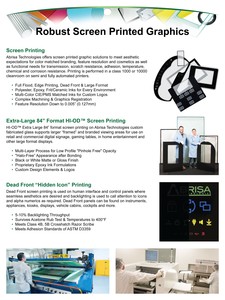 Screen printed graphic solutions for flat glass and optics components. Includes color matching, branding good feeature resolutions, scratch resistance, adhesion and temperature, chemical and corrosion resistance.
Full flood, edge printing, dead front & large format
Polyester, epoxy, frit/ceremic inks for every environment
Multi-color CIE/PMS matched inks for custom logos
Complex machining & graphics registration
Feature resolution down to 0.005" (0.127mm)
Dead front "hidden icon" panels
Extra-Large 84" Foirmat Hi-OD scren printed graphics for diplays and large viewing; digital signage, gaming tables, in-home entertainment, retail & commercial signage.