Semi-Transparent Mirrors for Hidden Displays
Featured Product from Abrisa Technologies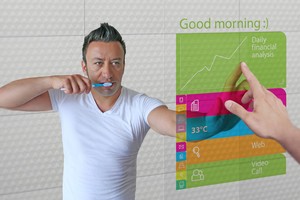 An emerging trend in hotel, restaurant, and retail displays is the use of aesthetically pleasing high performance Semi-Transparent Mirrors to create a hidden smart display mirror combination. The display unit is located behind the mirror, hidden from view until powered on; projecting a clear and sharp image on command.
The semi-transparent mirror coating is available on low iron soda lime glass for low absorption and on grey glass when a more opaque look is needed; as when hiding TVs, security, and surveillance equipment.
All of the Semi-Transparent Mirrors supplied by Abrisa Technologies have an elegant "silver" reflection that remains stable under wide viewing angles. The optical coating has superior color neutral performance across the visible spectrum, to help maintain the original color of the LCD display image.
Applications:
LCD/Mirror Displays
Hidden Smart Displays
Hotel Mirror Displays
Hidden Surveillance Equipment
Active Automotive Mirrors
Interrogation Room Windows
Architectural Lighting
Sheet Size, Thickness & Custom Features
Large sheet sizes (up to 126" x 88") are ideal for a wide array of digital signage applications and other large format mirrors and displays
Standard substrate thicknesses are: 3mm and 4mm
OEM Custom thicknesses may be available
Custom shapes/features
Screen Printed Graphics