Tapes, Gaskets & Films for Fabricated Glass
Featured Product from Abrisa Technologies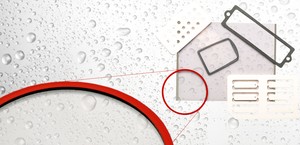 Abrissa Technologies offers convenient total solution services for the application of mounting tapes and gaskets to coated, screen printed and fabricated optical commponents. Ideal for wehrn parts need to be mounted, installed into brackets or require an environemtal seal.
Value-Added Application Services
Mounting, Sealing, Damage Resistance
Supply Chain Managed or Cutomer Furnished
Single-Point Accountability - Ready-to-Install
Optical performance, safety and aesthetic features are sometimes best accomplished with the incorporation of films applied as part of a total solution. Abrisa technologies offers in-house custom film patterning and application services.
Custom, Film Pattern Generation
UV, IR, VIS, Transparent & Blocking Films
Aesthetic Films - Metallic, Tint/Color, Branding
Safety, Damage Resistance, Anti-Fog, Security