1kVA convection cooled IP66 sinewave inverter
Featured Product from ABSOPULSE Electronics Ltd.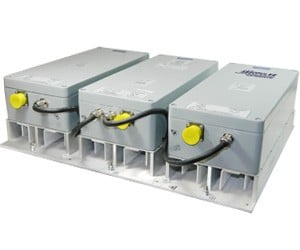 ABSOPULSE Electronics has recently released the CSI 1K-24/230-3XD3-HSF, a 1kVA IP66-rated DC-AC sine wave inverter with pure convection cooling.

This 1kVA inverter is designed for applications where a suitable heatsinking surface is not available and only pure convection cooling is feasible. It is suitable for operation in transportation, heavy industry, mining, marine and telecom applications where protection from the ingress of water from powerful jets, sand, metal dust, oil and other contaminants is essential.

The 1kVA microprocessor-controlled high frequency PWM inverter converts 24Vdc (21-230Vdc range) input to 230Vac continuous at 50Hz. Custom input/output values are readily available. Input and output are via sealed circular connectors, cable glands or custom connections.

Key Specifications
1kVA rugged, industrial inverter – pure sign wave output voltage;
Three IP66-rated diecast aluminum packages;
A heatsink assembly attached to the under-surface of each IP66 module, which is then attached to a baseplate for pure convection cooling;
Input: 24Vdc (21-30Vdc input range);
Output: 230Vac continuous at 50Hz;
Other I/O values available;
Sealed circular connectors, MIL connectors, cable glands or custom;
Application-specific vents for pressure equalization (if required);
Internal boards ruggedized and conformal coated;
Cooling: natural convection;
-25°C to +50°C operating temperature range for full specification;
EMI: EN55032 Class A with wide margins;
Dimensions: 406 x 526 x 94 mm (16" x 20.7" x 3.7") – not including heatsink fins.