1kW, 3-phase high voltage AC-DC power supply
Featured Product from ABSOPULSE Electronics Ltd.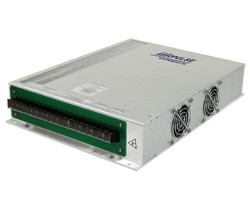 ABSOPULSE Electronics' HTH 1K-F6W is a 3-phase high voltage AC-DC power supply designed for 1000W industrial applications. The unit operates from a three-phase line input of 400Vac (340-446Vac range) and delivers a 200Vdc single output. Similar power supplies that operate from 380Vac or 480Vac 3-phase sources are also available on request.

The HTH 1K-F6W is typically used to power industrial applications such as DC motor control, battery charging, DC bus voltage for distributed systems and power servos.

Cooling by conduction via a heat-sinking surface and high quality internal fans provide sufficient cooling for operation over a 0°C to +50°C temperature range for full specification without derating.

The power supply is verified for 5600Vdc input to output isolation and production level testing is 4300Vdc input to output; this isolates equipment from the supply and contributes to high reliability and long operating life of the unit.

Key specifications
1000W output power;
Input: 3-phase 400Vac (340-460Vac) or custom;
Output: 200Vdc or custom;
Isolation: 4300Vdc input/output (5600Vdc type test);
0°C to +50°C operating temperature range – no derating;
Cooling by high quality internal fans;
Designed to meet EN/UL60950-1 and equivalent safety standards;
Conformal coating;
Compact construction;
Ruggedized: resistance to shock & vibration (IEC 61373 Cat 1 A&B);
MTBF 140,000 hours at 45°C (fans excluded);
85% efficiency at full load depending on input/output;
Full electronic protection;
F6W chassis: 254 x 65 x 349 mm (10″ x 2.6″ x 13.75″).

ABSOPULSE Electronics is an Original Equipment Manufacturer (OEM) specializing in the design and manufacture of an extensive range of heavy-duty industrial and railway quality power supplies. We offer full-custom, semi-custom and standard power conversion solutions.

Please contact us directly to discuss your application requirements.

HTH 1K-F6W for further information about this 3-phase high voltage AC-DC power supply.