2000W, high input voltage (800V) DC-DC converters
Featured Product from ABSOPULSE Electronics Ltd.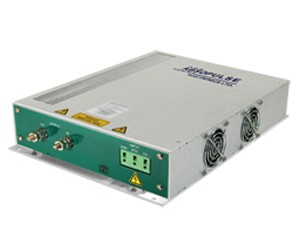 ABSOPULSE Electronics' HVI 2K-F6W series of high input voltage DC-DC converters employ field-proven HVI2500 topology to deliver up to 2000W output power. The converters are suitable for a broad range of industrial applications that require a rugged, reliable, DC-power supply capable of accepting high input voltage and where size and weight are constraining factors.

The HVI 2K-F6W units operate between 700Vdc to 900Vdc input range, 800Vdc nominal. Regulated single output voltage options include 24Vdc, 28Vdc, 36Vdc, 48Vdc, 110V or custom. An optional built-in redundancy diode allows for parallel and N+1 operation, or back-up battery connection. An output-fail alarm (Form C) and remote shutdown or enable are available on request.

Key Specifications
Input: 800Vdc nominal (700Vdc to 900Vdc operating range);
Output: 24Vdc, 28Vdc, 36Vdc, 48Vdc, 110Vdc or custom;
2000W continuous output power;
EMI: EN 55032 Class A (Class B optional);
Designed to comply with EN/IEC 61010-1;
Conformal coating for protection from humidity & airborne contaminants;
0°C to +50°C operating temp. range for full spec. without derating;
Cooling: Forced air by high quality built-in fans and conduction to customer heat sink or chassis;
80% efficiency at full load, depending on input/output configuration;
Full electronic protection;
Mechanical package F6W: 254 x 65 x 349 mm (10″ x 2.6″ x 13.75″) H x W x D.
ABSOPULSE Electronics is an Original Equipment Manufacturer (OEM) specializing in the design and manufacture of an extensive range of heavy-duty industrial and railway quality power conversion solutions. Our designs can be customized to meet our customers' specifications. Please contact us to discuss your application requirements.

HVI 2K-F6W series for further information on this converter and data sheet.