250W Convection cooled railway DC-DC converters
Featured Product from ABSOPULSE Electronics Ltd.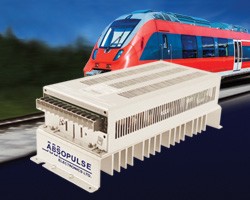 The LTH 65R-F3-HSA series of heavy-duty, railway quality DC-DC converters are designed to float charge hold-up batteries for onboard rolling stock electrical equipment. The units are also suitable for a broad range of other transportation and industrial applications.

The converters operate from a 12Vdc (10.5-16V) input and deliver 24V, 48V or 125Vdc and their corresponding float charges. Custom input /output values are available on request. An optional built-in redundancy diode allows for paralleling and N+1 operation or back-up battery connection.

The railway converters are cooled by a heatsink assembly block with fins attached to the under-surface of the unit. Additional cooling is achieved by natural convection through the cooling slots. The heatsink assembly also allows for mounting on uneven and thermally non-conductive surfaces. A DIN-rail mounting option is available. The units are rated for operation over a -25°C to +55°C temperature range for full specification without derating required. Wider temperature ranges are available on request.

The LTH 65R-F3-HSA converters meet the requirements of EN50155 for electronic equipment used on railway rolling stock.

ABSOPULSE Electronics is an Original Equipment Manufacturer (OEM) specializing in the design and manufacture of an extensive range of heavy-duty industrial and railway quality power conversion solutions. Our designs can be customized to meet our customers' specifications. Please contact us to discuss your application requirements.