300W, IP66 Rail DC-DC converters, RIA12 protection
Featured Product from ABSOPULSE Electronics Ltd.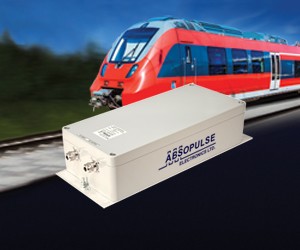 ABSOPULSE's BAR 65R-D3-IP66 series of rugged, IP66-rated, railway quality DC-DC converters deliver up to 300W output power. The units have an input voltage surge withstand capability of a minimum of 3.5Vn for 20msec and meet the requirements of RIA12. RIA12 is the general specification for the protection of traction and rolling stock equipment from transients and surges in DC control systems. The design meets EN50155 for railway equipment used on railway rolling stock. Heavy filtering on the input and output ensures that the units comply with EN50121-3-2.

Key Specifications
Railway quality DC-DC converter – EN50155 compliant;
RIA12 input voltage withstand capacity (3.5Vn for 20msec);
IP66-rated diecast aluminum package;
Input: 24Vdc, 36Vdc, 48Vdc, 72Vdc, 96Vdc, 110Vdc (EN50155 ranges);
Output: 12Vdc, 24Vdc, 48Vdc or 110Vdc or custom;
Line/load regulation: ±1% zero-load to full-load;
EMI: EN50121-3-2;
Internal boards ruggedized and conformal coated;
Cooling: conduction and natural convection;
-25°C to +50°C operating temperature range for full specification;
Application-specific vents for pressure equalization (option);
D3 IP66 enclosure: 360 x 160 x 90 mm (14.2″ x 6.3″ x 3.5″)
ABSOPULSE Electronics is an Original Equipment Manufacturer (OEM) specializing in the design and manufacture of an extensive range of railway and industrial quality power conversion solutions. Most of our designs can be customized to meet our customers' specifications. Contact us to discuss your application requirements.

BAR 65R-D3-IP66 for further information on this railway converter and data sheet.