3-Phase, 3kW convection cooled IP54 power supply
Featured Product from ABSOPULSE Electronics Ltd.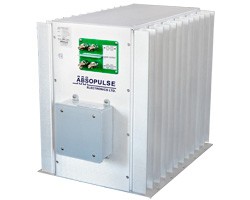 ABSOPULSE Electronics' HVI 3KP-V9 is a rugged, convection cooled power supply designed for driving low voltage 24V, 48V, or 125Vdc equipment in severe environments where fans or forced air are not practicable, and high instantaneous power is required.

Typical applications include electro-mechanical lifting and positioning equipment, winches, pumps, and a broad range of other industrial machinery and equipment.

The power supply accepts a 400Vac, 3-phase input and delivers between 2,500 and 3,500W, depending on application requirements. 125Vdc or higher DC-inputs are also available. Typical conversion efficiency is 85% at full load depending on input/output configuration.

The power supply is built with rugged internal power modules, each separated by a built-in redundancy diode. The internal redundancy diodes allow for a number of units to be connected in parallel to achieve higher output power. Each internal power module is encapsulated with a thermally conductive MIL-grade silicon rubber potting compound with UL94V-0 flammability rating for protection moisture and other contaminants.

The system is packaged in an IP54 enclosure which provides protection from dust, metallic dust and water spray.

Cooling is by convection via heat-sink fins on two sides of the unit. The potting of the internal modules ensures effective heat transfer to the fins. The HVI 3KP-V9 operates over a 0°C to +50°C temperature range for full specification.

The input and output are filtered for low noise. The input meets EN55022 Class A with margins. The power supply is designed for compliance with EN/UL60950-1 and equivalent safety standards. Full electronic protection, low component count, large design headroom and the use of components with established reliability contribute to an MTBF of a minimum of 90,000 hours at 45oC.

Customized versions of this design and versions with different output power levels are also available. Please contact ABSOPULSE Electronics to discuss your application requirements.

Please see HVI 3KP-V9 for the data sheet and detailed product description.