500W, IP66-rated power supplies active PFC
Featured Product from ABSOPULSE Electronics Ltd.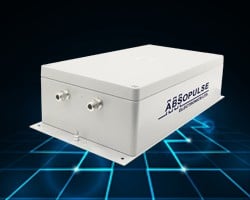 ABSOPULSE Electronics PFC 319-D4 Series of IP66-rated AC-DC power supplies with active power factor correction (PFC) deliver up to 500W continuous output power. They use active power factor correction to convert a universal ac-input voltage (95V to 264Vac) to 12Vdc, 24Vdc, 48Vdc or 125Vdc. Custom input/output voltages available on request. An optional built-in redundancy diode allows for parallel and N+1 operation.

The power supplies are suitable for use in transportation, heavy industry, power generation and distribution, telecom, mining, marine and other severe environments.

Key Specifications
500W continuous output power;
Active power factor correction (PFC);
Input: 95V to 264Vac universal;
Output: 12Vdc, 24Vdc, 48Vdc, 125Vdc or custom;
Installed in IP66-rated die cast aluminium packages;
Protected from the ingress of water, fog, sand, metal dust, dust, oil, insects;
Internal boards ruggedized and conformal coated;
Operating temperature -25°C to +50°C;
Cooling: natural convection and conduction;
EMI: EN55032 Class A with wide margins, Class B on request;
IP66-rated enclosure: 230 x 113 x 448 mm (H x W x D).


ABSOPULSE Electronics is an Original Equipment Manufacturer (OEM) specializing in the design and manufacture of an extensive range of railway and industrial quality power conversion solutions. Most of our designs can be customized to meet our customers' application requirements. Contact us to discuss your project.

The PFC 319-D4 data sheet and further product information.