5kW 3-Phase Power Supplies with Active PFC input
Featured Product from ABSOPULSE Electronics Ltd.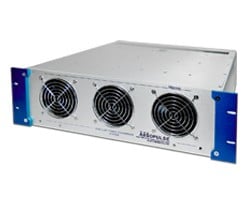 ABSOPULSE Electronics' PFH 5K-A3P/XX-3U7 series AC-DC Power Supplies with 3-phase active PFC-input are designed for heavy-duty 5kW industrial applications.

The units operate from a three-phase input of 208Vac (197-264Vac operating range) and deliver any single output from 24Vdc to 400Vdc. A similar version that operates from 400Vac 3-phase sources is also available. Efficiency is typically 84% at full load, depending on the required input/output configuration.

Several PFH 5K-A3P/XX-3U7 power supplies can be configured in parallel to create a 10kW, 15kW, or higher DC-power solution.
Key Specifications
5kW, 10kW, 15kW or higher;
Input: 3-phase 208Vac (197-264Vac ) or custom;
Active PFC-Input;
Output: Any voltage 24V … 400Vdc;
EMI: EN55032 Class A with margins;
0°C to +50°C operating temperature range – no derating;
Cooling by high quality internal fans;
Designed to meet EN/UL60950-1 and equivalent safety standards;
Ruggedized: resistance to shock & vibration (IEC 61373 Cat 1 A&B);
MTBF 140,000 hours at 45°C (fans excluded);
Full electronic protection;
3U7/19 rack mount: 132 x 483 x 407mm, (3U) 5.2" x 19" x 16";
3U7 chassis-mount: 132 x 432 x 407 mm, (3U) 5.2″ x 17″ x 16″.
ABSOPULSE Electronics is an Original Equipment Manufacturer (OEM) specializing in the design and manufacture of an extensive range of railway and industrial quality power conversion solutions. Most of our designs can be customized to meet our customers' application requirements. Contact us to discuss your project.

The PFH 5K-A3P/XX-3U7 data sheet and further product information.