5kW High Input, Wide Input Range DC-DC Converter
Featured Product from ABSOPULSE Electronics Ltd.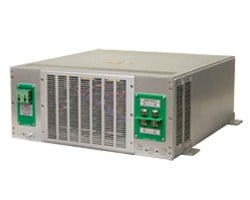 ABSOPULSE Electronics has recently released the HVT 5K-1200/24-4U7, a high input voltage industrial quality DC-DC converter designed for driving low voltage 24Vdc equipment in 5kW applications. The unit converts 1200Vdc (1000Vdc to 1400Vdc range) to 24Vdc/208A. The input and output can be customized for other voltages. Conversion efficiency is typically 85% at 1200Vdc nominal input, at full load.

Several units can be parallel connected for 10kW, 20kW and higher output power. The HVT 5K-1200/24-4U7 is typically designed into power systems that transmit high voltage and high power over long distances.

Key Specifications

• Input: 1200Vdc (1000Vdc to 1400Vdc range) or custom;
• Output: 24Vdc/208A, or custom (e.g. 48V, 110V);
• 5000W continuous output power;
• 0°C to +50°C operating temp. range for full spec. (no derating);
• EMI: EN55032 Class A (Class B optional);
• Designed for compliance with EN62368-1 and equivalent safety standards;
• Conformal coating for protection against humidity and airborne contaminants;
• 85% efficiency at full load at 1200Vdc input;
• Full electronic protection;
• 4U7 chassis-mount: 176.5 x 432 x 419 mm (6.95" x 17" x 16.5")
19" rack-mounting available
ABSOPULSE Electronics is an Original Equipment Manufacturer (OEM) specializing in the design and manufacture of an extensive range of heavy-duty industrial and railway quality power conversion solutions. All of our designs can be customized to meet our customers' specifications. Please contact us to discuss your application requirements.