5kW high input voltage DC-DC converters
Featured Product from ABSOPULSE Electronics Ltd.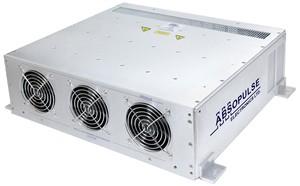 ABSOPULSE Electronics has released the HVI 5K-3U7, a series of high input voltage industrial quality DC-DC converters that deliver up to 5kW output power. A built-in redundancy diode allows for parallel connection of a number of 5kW converter units to create a 10kW, 15kW, or higher DC-power solution, and N+1 operation. The output separation diode also makes the units suitable for battery charging applications.

Key Specifications
Delivers 5kW, 10kW, 15kW or higher;
Input voltage: 600Vdc nominal;
Wide input operating range: 400V-800Vdc;
Output: 24V, 48V, 110Vdc, 125Vdc or custom;
Built-in redundancy diode;
N+1 redundancy option;
85% efficiency at full load depending on input/output configuration;
Full electronic protection;
Chassis: 132 x 432 x 407 mm (5.2″ x 17″ x 16″);
Typical environments: power utilities, industrial control, automotive, marine, telecom.
ABSOPULSE Electronics is an Original Equipment Manufacturer (OEM) specializing in the design and manufacture of an extensive range of heavy-duty industrial and railway quality power conversion solutions. Our designs can be customized to meet our customers' specifications. Please contact us to discuss your application requirements.

Please see HVI 5K-3U7 series for further information on this converter and data sheet.