800VA, 3-phase pure sine wave DC-AC inverter
Featured Product from ABSOPULSE Electronics Ltd.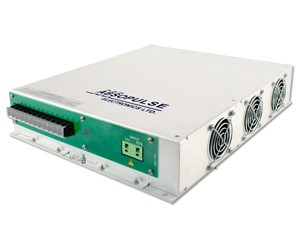 ABSOPULSE's CTPH 800-F7W series high input voltage DC-AC inverters deliver up to 800VA 3-phase pure sine wave output voltage. The units operate from 700Vdc input (500-900Vdc range), 1100Vdc peak, with a maximum start-up current of 2A. The inverters deliver a 3-phase, sine wave output of 208Vrms continuous (line-to-line) at 60 or 400Hz, or 400Vrms continuous (line-to-line) at 50Hz.

The CTPH 800-F7W 3-phase inverters are suitable for material handling equipment, testing 3-phase equipment in engineering labs, testing avionic instrumentation and other equipment.

Key Specifications
800VA, 3-Phase sinusoidal output voltage;
DC-input: 700Vdc nominal (500-900Vdc operating range), 1100Vdc peak;
AC-output: 208Vrms (L-L)/3-phase continuous at 60 or 400Hz or 400Vrms (L-L)/ 3-phase continuous at 50Hz;
EMI: EN55032 Class A with margins;
Cooled by high quality built-in fans;
Operating temperature range: 0°C to +50°C for full spec.;
Full electronic protection;
Typical efficiency at full load: min. 85%;
Heavy ruggedizing;
Internal boards conformal coated;
Dimensions of F7W chassis: 280 x 67 x 356 mm (11" x 2.6" x 14") W x H x L.
ABSOPULSE Electronics is an Original Equipment Manufacturer (OEM) specializing in the design and manufacture of an extensive range of industrial and railway quality power conversion solutions. Most of our designs can be customized to meet our customers' specifications. Contact us to discuss your application requirements.

Please see CTPH 800-F7W for further information on this inverter and data sheet.