Dual-output Convection Cooled Railway Power Supply
Featured Product from ABSOPULSE Electronics Ltd.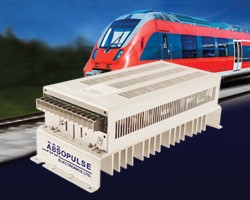 ABSOPULSE Electronics' PFC 252R-HSA-F3 series dual-output railway AC-DC power supplies with pure convection cooling deliver up to 250W output power. The units employ active power factor correction (PFC) to convert a universal ac-input (95V to 264Vac) to two outputs.
The power supplies are designed for applications where a suitable heatsinking surface is not available and only pure convection cooling is feasible. A heatsink assembly is attached to the under-surface of the F3 power supply module, providing a pure convection cooled solution. This enables operation within a -40 to +55°C temperature range for full specification without derating.
Key Specifications:

- 250W Railway AC-DC power supplies;
- Comply with EN50155;
- EMI: EN50121-3-2;
- Input: 95V to 264Vac universal;
- Active power factor correction (PFC) on input;
- Power factor meets EN61000-3-2
- Two individually regulated outputs; Output V1: any voltage 12V to 110Vdc10A to 14A max; Output V2: any voltage 5V to 24Vdc8A to 2A;
- -40°C to +55°C operating temperature range for full specification;
- Chassis-mount and DIN-rail mount options available;
- 132 x 102 x 300 mm (5.2″ x 4″ x 11.8″) total size