Encapsulated railway DC-DC converters meet RIA12
Featured Product from ABSOPULSE Electronics Ltd.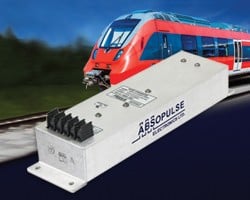 ABSOPULSE Electronics' RWR-212-P200L and RWR-212-P200X fully encapsulated RIA12 DC-DC converters deliver up to 200W in railway rolling stock applications.

The DC-DC converters have an input voltage surge-withstand capacity 3.5 times nominal input voltage for 20 milliseconds and meet the requirements of RIA12 with wide margins. RIA12 is the general specification for protection of traction and rolling stock equipment from transients and surges in DC control systems.

Key Specifications:
200W Railway quality DC-DC converters;
Meet requirements of EN 50155;
RIA12 input voltage withstand capacity (3.5Vn for 20ms);
Input: 24Vdc, 36Vdc, 48Vdc, 72Vdc, 96Vdc, 110Vdc (EN50155 ranges);
Output: 12V, 24V, 48V or custom;
Line/load regulation: ±1% combined from no load to full load;
EMI: EN50121-3-2;
Conduction cooling via base plate to customer heat-sink or chassis;
-40°C to +70°C operating temperature range for full specification.
ABSOPULSE Electronics is an Original Equipment Manufacturer (OEM) specializing in the design and manufacture of an extensive range of heavy-duty industrial and railway quality power conversion solutions. Contact us to discuss your application requirements.

Please refer to RWR 212-P200L and RWR 200-P200X for the data sheet and further information about these converters.