High Voltage 3 Phase 5kW AC-DC Power Supplies
Featured Product from ABSOPULSE Electronics Ltd.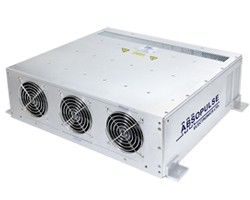 ABSOPULSE Electronics PFHI5K-3U7 series of high input voltage, wide input range AC-DC power supplies with active power factor correction (PFC) deliver 500W output power.


The power supplies operate over a 340-460Vac AC-input range; 400Vac 3-phase (3 wire connection) nominal input. Available outputs include any fixed voltage 300V … 600Vdc.

The PFHI5K-3U7 units are equipped a built-in redundancy diode, which allows for several 5kW power supplies to be configured in parallel to create a 10kW, 15kW, 20kW or higher DC-power solution.

The units employ active power factor correction, which limits input current harmonics to achieve a PFC rating of 0.97 at full load for the entire input range. The power supplies comply with EN61000-3-2 and EN61000?3?12 directives for low input harmonic distortion.

Key Specifications:
5kW, 10kW, 15kW or 20kW output power;
Input voltage: 400Vac 3-phase (3 wire connection);
Input range: 340-460Vac;
Active power factor correction (PFC) on input;
Power factor meets EN61000-3-2 and and EN61000-3-12;
Output: any fixed voltage 300V … 600Vdc;
EMI: EN55032 Class A with wide margins;
Designed to meet EN/UL60950-1 and equivalent safety standards;
Conformal coated internal boards;
0°C to +50°C operating temperature range;
Forced air cooling by high quality built-in fans;
Ruggedized: resistance to shock & vibration (IEC 61373 Cat 1 A&B);
MTBF 140,000 hours at 45°C (fans excluded);
Full electronic protection.
ABSOPULSE Electronics is an Original Equipment Manufacturer (OEM) specializing in the design and manufacture of an extensive range of heavy-duty industrial and railway quality power conversion solutions. All of our designs can be customized to meet our customers' specifications. Please contact us to discuss your application requirements.