High input voltage DC-AC pure sine wave inverters
Featured Product from ABSOPULSE Electronics Ltd.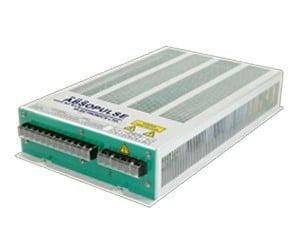 ABSOPULSE Electronics' CSH 500-F6 series of heavy-duty, high input voltage DC-AC sine wave inverters deliver 500VA pure sinewave output voltage. They convert 600Vdc industrial input voltage (450V to 800V operating range) to an isolated sine wave output of 115Vac continuous at 60Hz or 400Hz, or 230Vac continuous at 50Hz. Up to 1200Vdc input available on request.

The inverters are suitable for operation in industrial automation and control, transportation, power plants and electrical utilities.

Key Specifications
500VA pure sine wave inverters;
300VA, 400VA and other output VA also available;
Microprocessor controlled, high frequency PWM technology;
Input: 600Vdc input (450V to 800Vdc range);
Input voltages of up to 1200Vdc are possible on request;
Output: 115Vac continuous at 60Hz/400Hz, or 230Vac continuous at 50Hz;
Cooling by conduction and natural convection (no fans);
0°C to +50°C operating temperature range – no derating;
Designed to comply with C22.2 No. 107.1-01, UL 458 and EN/UL60950-1;
Conformal coating for protection against humidity and airborne contaminants;
Full electronic protection;
Compact construction;
Chassis mount F6 package: 210 x 64 x 365 mm (8.3" x 2.5" x 14") W x H x D.
ABSOPULSE Electronics is an Original Equipment Manufacturer (OEM) specializing in the design and manufacture of an extensive range of heavy-duty industrial and railway quality power conversion solutions. We offer full-custom, semi-custom and standard power supplies.

Please contact us to discuss your application requirements.

CSH 500-F6 for further information on this sine wave inverter, and data sheets.