High input voltage wide input range DC converter
Featured Product from ABSOPULSE Electronics Ltd.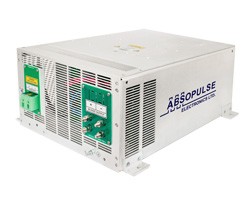 ABSOPULSE Electronics' HVT 2K4-1300/24-4U5 is a heavy-duty, high input voltage, industrial quality DC-DC converter designed for driving low voltage equipment. It is typically designed into power systems that transmit high voltage and high power over long distances.
The unit converts direct current in a 1000Vdc to 1500Vdc range to 24Vdc at 100A. The output can be customized for other voltages including 48Vdc and 110Vdc. Input to output safety isolation is 5000Vdc and input to chassis isolation is 3450Vdc. Conversion efficiency is typically 85% at 1300Vdc nominal input, at full load.

The converter is built with rugged internal modules connected parallel via internal redundancy diodes. This modular construction provides inherent redundancy and ensures that the unit remains operational even if one of the internal modules fails. The built-in redundancy diodes also allow for several units to be connected parallel for output power at approx. 5kW, 7.5kW and higher. The low voltage output can also be connected in series to generate higher voltage, or multiple outputs.

Key Specifications
Input: 1000Vdc to 1500Vdc range;
Output: 24Vdc/100A, or custom (e.g. 48V, 110V);
2400W continuous output power;
0°C to +50°C operating temp. range for full spec. (no derating);
EMI: EN55022 Class A (Class B optional);
Designed for compliance with for compliance with IEC61010-1, UL508C ;
Conformal coating for protection against humidity & airborne contaminants;
85% efficiency at full load at 1300Vdc input;
Full electronic protection;
Mechanical package 4U5: 177 x 305 x 419 mm (6.95″ x 12″ x 16.5″) – H x W x D.
ABSOPULSE Electronics is an Original Equipment Manufacturer (OEM) specializing in the design and manufacture of an extensive range of heavy-duty industrial and railway quality power conversion solutions. Our designs can be customized to meet our customers' specifications. Please contact us to discuss your application requirements.

Further information on this HVT 2K4-1300/24-4U5 series and data sheet.