Railway pure sine wave inverters convection cooled
Featured Product from ABSOPULSE Electronics Ltd.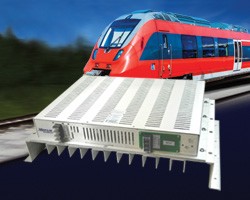 ABSOPULSE Electronics RSI 1K-HSA-F31 series of railway quality DC-AC inverters deliver up to 1000VA pure sine wave output. They are an addition to the company's line of power conversion products that are cooled by natural air convection; no forced air or attachment to a heatsinking surface is required. Cooling is via a heatsink assembly block with fins attached to the under-surface of the chassis. Additional cooling is provided by natural convection through the cooling slots. The heatsink assembly also allows for mounting on uneven and thermally non-conductive surfaces such as brick walls, plastic and wood.
Key Specifications
1000W railway quality AC-DC sine wave inverter. Industrial version available;
Input: 36V, 48V, 72V, 96V, 110Vdc with EN50155 input ranges. 24Vdc input derated to 750VA;
Output: 115Vac continuous at 60Hz or 400Hz or 230Vac continuous at 50Hz;
Convection cooling via heatsink assembly;
Railway version complies with EN50155 for electronic equipment on railway rolling stock;
EMI: EN50121-3-2;
Meet EN61000-4-2, EN61000-4-3, EN61000-4-4, EN61000-4-6 and EN45545;
Efficiency: typically 80% at full load – input voltage dependent;
-25°C to +55°C operating temperature range – no derating;
Full electronic protection;
F31 package with attached HSA-F31 heatsink assembly 572 x 150 x 356 mm


ABSOPULSE Electronics is an Original Equipment Manufacturer (OEM) specializing in the design and manufacture of an extensive range of heavy-duty industrial and railway quality power conversion solutions. Our designs can be customized to meet our customers' specifications. Contact us to discuss your application requirements.

Further information on this RSI 1K-HSA-F31 series and data sheet.