Profile End Preparation Extrusion System
Product Announcement from Abtex Corporation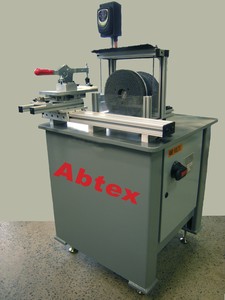 Abtex Corporation has introduced a compact, portable, affordable system for deburring aluminum extrusion profiles in preparation for scanning measurement. Burrs and displaced metal on a saw cut profile end need to be removed in order for scanning type measurement systems to provide accurate readings.
The new system is just 24" wide, 24" long and 48" high. The operator clamps the sample part in place and then manually feeds the part across the face of the abrasive filament disc brush. When the part carrier makes contact with the limit switch, the 2 HP, 1750 RPM electric motor reverses direction. This action provides 360 degree deburring.
The Abtex system produces consistently uniform results, removing burrs quickly and completely regardless of work piece geometry. Yet the lateral surface finish is not affected. The system can be set up quickly and its operation requires minimal training and skill. The result is a cleaner, safer and foolproof operation.
Abtex Corporation is a deburring technology company whose engineers design abrasive filament brushes and drive systems for any application.
For information, call Abtex at 888.662.2839, e-mail sales@abtex.com or visit www.abtex.com. Abtex Corporation is at 89 Main Street, P.O. Box 188, Dresden, New York 14441. Telephone 315.536.7403, fax 315.536.0280.
---