Protect, seal & isolate electronics components
Service Detail from Accu-Glass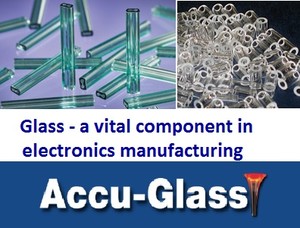 Glass tubing is ubiquitous in electronics!
Some applications include reed switch bodies, fuse bodies, diode glass sleeve packages, lamps, RFID transponders, flat panel displays and thermistors. The function of the glass varies by application, however, it is used many times to electrically insulate, passivate components or as a hermetic seal.
Glass is an ideal material for hermetically sealed packages because of its high dielectric rating, attachment properties to metal surfaces, and mechanical stability over a wide range of operating temperatures. These features provide high electrical insulation, hermetic sealing of glass to metal, and high resistance to cracking as a result of thermal stress.

Use Accu-Glass' expertise in your design & development phase to solve challenges and get your product to market quickly. With our specialized materials, Accu-Glass precision glass forming processes provide the flexibility to produce low-volume prototypes or high-volume/low-cost production quantities. Learm More

Contact us via the e mail link on this page to request samples and get a first hand look at our capabilities