DISOCONT® MASTER Group Controller
Product Announcement from AccuRate/Schenck AccuRate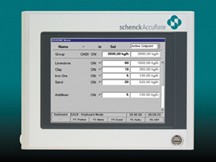 The DISOCONT® MASTER Group Controller is designed for the management of up to 16 gravimetric screw feeders, weighfeeders, and mass flow meters. DISOCONT® MASTER is used whenever:
Multiple feeders are to be controlled and/or monitored from a single workplace.
Feeders are to be controlled at a specific ratio as part of an overall group setpoint.
Feeders are controlled by a master gravimetric feeder.
Processes need to be controlled.
It can provide touch screen operation, recipe management, and graphical trending.
---