Aerospace Bearings Meet Key Standards
Featured Product from Accurate Bushing Company, Inc.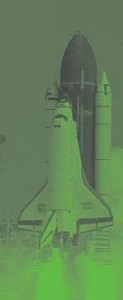 Approved to manufacture to military and aerospace specifications meeting the standards of AS-3990. Our engine bearings are used in thrust reversers, after burners and divergent nozzles. Our airframe bearings are used in flap-tracks, canopies and landing gear.
Smith Aircraft Bearings have been designed to meet the standards of the aerospace industry and conform to military and other appropriate national standards. When selecting these bearings for your application, it is recommended that you review the engineering data provided, along with any appropriate military or national specifications.
Smith Bearing® has been a leader in the design and manufacture of specialized bearings for the unique requirements of jet engines. They have kept pace with the ever increasing demands for anti-friction bearings to operate at higher temperatures. Thrust reversers, afterburners, and divergent nozzles are some of the areas in which Smith Bearing® Bearings are currently functioning. Contact their engineering department for recommendations and design assistance.
Military Qualifications
The products listed meet the military requirements of Mil-B-3990 (SAE AS 39901)
Smith Aircraft Bearings are marked with the bearing designation including bearing type code. Many of these bearings are supplied pre-lubricated to meet the OEM's special requirements. When ordering, attention must be paid to the original manufacturers parts list requirements so that proper identification can be provided.
Federal Aviation Administration Parts Manufacturing Approval FAA PMA
Smith manufactures bearings to meet the provisions of the Federal Aviation Regulations (FAR) for Parts Manufacturing Approval (PMA). Smith Bearing® aintains an active list identifying all of our FAA PMA parts and where they are applicable. This list is available upon request.
Click here to download our complete catalog in Adobe Acrobat PDF format
Never settle for less than greatness! That is why Smith Bearing® is the brand you need to trust! With over 60 years experience in designing and manufacturing precision needle roller bearings, we can handle your requirements for standard aerospace and industrial bearings, as well as custom manufactured special bearings, assemblies, and bushings.
As well as our existing product line, we are ready to assist you with the manufacture of custom made products, precision machine components and assemblies. ISO 9001 and AS 9100 registered.
Smith Bearing® serves the global market place with a network of Industrial and Aerospace distributors, manufacturing plants and sales offices throughout the world. The structure of our operation affords us the ability to give highly personalized attention to every customer. Most importantly, this structure gives us the ability to respond immediately to our customers request as well as providing highly cost-effective products.