Metal Industry Solutions!!
Featured Product from Accurate Bushing Company, Inc.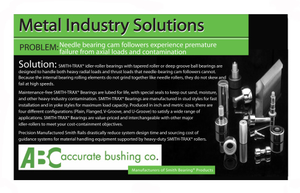 Metal Industry Solutions!!
Problem with Needle Bearing cam followers experiencing premature failure from axial loads and contamination? We have the solution for you! SMITH-TRAX idler-roller bearings with tapered roller or deep groove ball bearings are designed to handle both heavy radial loads and thrust loads that needle-bearing cam followers cannot. Because the internal bearing rolling elements do not grind together like needle rollers, they do not skew and fail at high speeds.
Maintenance-free (yes that is right, we said MAINTENANCE-FREE) SMITH-TRAX Bearings are lubed for LIFE, with special seals to keep out sand, moisture, and other heavy-industry contamination. SMITH-TRAX Bearings are manufactured in study styles for fast installation and in yoke styles for maximum load capacity. Produced in inch and metric sizes, there are four different configurations (Plain, Flanged, V-Groove, and U-Groove) to satisfy a wide range of applications. SMITH-TRAX Bearings are value-priced and interchangeable with other major idler-rollers to meet your cost-containment objectives.
Precision Manufactured Smith Rails drastically reduce system design time and sourcing cost of guidance systems for material handling equipment supported by heavy-duty SMITH-TRAX rollers.
Click here to download our complete catalog in Adobe Acrobat PDF format
Never settle for less than greatness! That is why Smith Bearing® is the brand you need to trust! With over 60 years experience in designing and manufacturing precision needle roller bearings, we can handle your requirements for standard aerospace and industrial bearings, as well as custom manufactured special bearings, assemblies, and bushings.
As well as our existing product line, we are ready to assist you with the manufacture of custom made products, precision machine components and assemblies. ISO 9001 and AS 9100 registered.
Smith Bearing® serves the global market place with a network of Industrial and Aerospace distributors, manufacturing plants and sales offices throughout the world. The structure of our operation affords us the ability to give highly personalized attention to every customer. Most importantly, this structure gives us the ability to respond immediately to our customers request as well as providing highly cost-effective products.