Smith Bearing Stainless Steel Cam Followers!!
Featured Product from Accurate Bushing Company, Inc.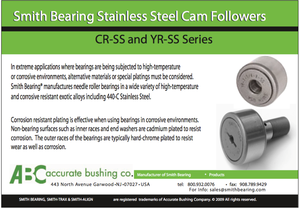 Smith Bearing Stainless Steel Cam Followers!!
In extreme applications where bearings are being subjected to high-temperature or corrosive environments, alternative materials or special platings must be considered. Smith Bearing manufactures needle roller bearings in a wide variety of high-temperature and corrosive resistant exotic alloys including 440-C Stainless Steel.
Corrosion resistant plating is effective when using bearings in corrosive environments. Non-bearing surfaces such as inner races and end washers are cadmium plated to resist corrosion. The outer races of the bearings are typically hard-chrome plated to resist wear as well as corrosion.
Never settle for less than greatness! That is why Smith Bearing® is the brand you need to trust! With over 60 years experience in designing and manufacturing precision needle roller bearings, we can handle your requirements for standard aerospace and industrial bearings, as well as custom manufactured special bearings, assemblies, and bushings.
As well as our existing product line, we are ready to assist you with the manufacture of custom made products, precision machine components and assemblies. ISO 9001 and AS 9100 registered.
Smith Bearing® serves the global market place with a network of Industrial and Aerospace distributors, manufacturing plants and sales offices throughout the world. The structure of our operation affords us the ability to give highly personalized attention to every customer. Most importantly, this structure gives us the ability to respond immediately to our customers request as well as providing highly cost-effective products.