Electronic Hardware Meets Stringent Defense Specs
Featured Product from Accurate Screw Machine Corp. (ASM)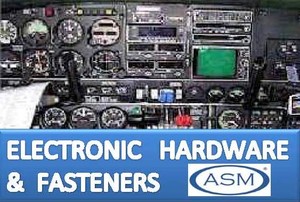 ASM's full array of electronic hardware, captive screws, assemblies and specialty fasteners have earned top performance ratings from leading aerospace OEM's, NASA and the US Military. ASM machines special materials, is AS 9100 certified, DFARS compliant and has a network of Nadcap approved suppliers, Our components meet the most stringent defense specifications.
ASM offers specialty fasteners, connectors, precision machined components and hardware to meet demanding requirements. Always fast, reliable, and competitively priced, specializing in prototype and full production quantities of fasteners and fastener assemblies for every alternative energy application. Both English and metric dimensioned components in stock.
Accurate Screw Machine leads the precision-machined fastener industry by consistently supplying highest-quality custom designed and off-the-shelf electronic hardware and precision fasteners to the defense, electronics, aerospace, medical, telecommunications, alternative energy and metal fabricating industries.
Customized product orders ship within seven days, in-stock orders usually ship same day! Whether you're looking for captive screws, standoffs, panel screw retainers, handles and ferrules, electronic spacers, electronics bushings, panel screws, shoulder screws, electronic flat washers, or any other electronic hardware, Accurate Screw Machine is the source
Learn more by visiting our website via the links on this page
You can download 3D drawings into your design, or Request a Catalog