Top Quality for OEMs NASA & US Military
Product Announcement from Accurate Screw Machine Corp. (ASM)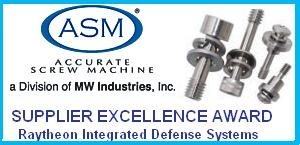 Since 1967, ASM has maintained a rich history of product and service excellence having earned top performance ratings from leading OEM's, NASA and the US Military.
ASM Quality Awards from customers:
ASM earns Supplier Excellence Award from RAYTHEON
ASM's commitment to quality and performance includes:
Watch>>>Welcome to Accurate Screw Machine
ASM is a leading manufacturer of electronic component hardware fasteners with a history of product and service excellence spanning over 40 years. This commitment has not wavered because complete customer satisfaction is still our #1 priority. ASM has proudly become a major supplier of prototype and full production quantities to numerous industries including: Electronics, Aerospace, Medical, Telecommunications and Metal Fabricating. In 1998, Accurate Screw Machine joined with MW Industries Inc. to strengthen its position as one of the top specialty fastener manufacturers in the nation. ASM continues to lead the way in the precision-machined fastener industry because we listen and respond to the needs of our customers by providing:

A Large Stock Inventory: Over 6 million parts ready to ship within 8 hours
Custom Parts: Ship in one week or less
Diverse Manufacturing Capability: Prototype to full production quantities
Metric and Standard Sizes: Large selection of heads, threads, lengths, ID's & OD's
Exacting Quality Standards: Registration to ISO 9001/2008 & full QC certification
Comprehensive Product Reference Tools: Main product catalog,state-of-the-art interactive CD and web site. Plus, 3D CAD modeling.
Cage Code: 51506
---