Is There Such a Thing as a Classic Slide?
Featured Product from Accuride International, Inc.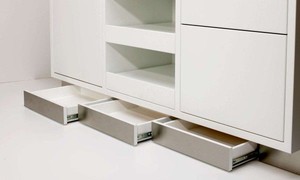 Accuride 3832: Is There Such a Thing as a Classic Slide?
If there is, the Accuride 3832 is it.
We're used to some things being called classic, a 1950s jukebox, a '60s Pontiac, or even an old melody.
But what about a slide?
It may sound silly at first, but consider the Accuride 3832. This telescopic slide has shaped ball-bearing movement around the globe for four decades.
The genesis of this slide goes back to the 1980s. Before the 3800 Series, there was one slide that started it all – the Accuride Model 3800.
The 3800 had the basic attributes we take for granted in a telescopic slide. Those include three slide members (inner, intermediate, and outer) guided by ball bearings.
No surprise, the basic dimensions (height, side-space) of the 3800 became the de facto standard in light-duty applications. Manufacturers, retro-fitters, and cabinet-makers shaped their own designs' movement around the 3800's specs.
Like many classics, the Accuride 3800 has been replicated the world over. As the saying goes: Imitation is the sincerest form of flattery!
These attributes are common nowadays, but they were outright revolutionary back then. The design of the 3800 provided drawers and trays with an excellent blend of smooth movement and accessibility.
Check out Accuride's blog to stay current on the latest news, design changes, industry trends and newest innovations
Watch>>Accuride Corporate Video
About Accuride
Accuride is a global presence with extensive resources, a deep understanding of design and manufacturing, and a reputation as a pioneer in the development of quality movement solutions.