A FEW WAYS ACCURIDE® GOES GREEN
Featured Product from Accuride International, Inc.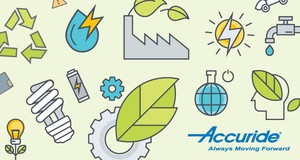 We share one planet, so it's important that we take care of it.
More and more enterprises are working towards making the planet greener. We're aware that, historically, manufacturing hasn't been the healthiest thing for the environment. That's why we're taking steps to reduce our environmental impact.
Below are a few of them:
RoHS Compliance
RoHS stands for Restriction of Hazardous Substances, otherwise known as Directive 2002/95/EC. The European Union formed this directive in 2003 and enacted it three years later. This directive limits the use of toxic substances, such as lead and mercury, in manufacturing. Since 2006, countries around the world have implemented variations of RoHS. While the United States as a whole has yet to, the State of California has adopted its own variation. To comply with RoHS, Accuride stopped using Hexavalent Chromium in its plating process. We now use Trivalent Chromium, which can reduce chromium wastewater by as much as 95%. The exception is for the black electroplate finish used on some of our movement solutions.
ISO 14001
Another way Accuride works toward a cleaner world involves the operation of its plants. Our British and German plants comply with ISO 14001, an international standard for environmental management systems. To be in compliance, a company must adhere to a comprehensive standard in waste management and energy usage. Accuride's British and German facilities receive outside certification, while our North American plant undergoes a routine internal audit to make sure it's up to snuff.
Using Less, Doing More
Accuride's North American plant slashed its number of plating machines by one-third while maintaining the same level of production. That, in turn, reduced the plant's water usage by over 30%.
Then there are the small things that make a big difference. We repurpose leftover metal from machining rather than sending it to consume space at landfills or add to the need for metal-mining. Our plants have adopted fluorescent light fixtures, which consume two-thirds less power and last 10 to 15 times longer than incandescent lights. And then there's our encouraging of our thousands of employees to recycle and reuse.
Are we satisfied with these steps? No, but Accuride is always looking to do more. "Always Moving Forward" is our tagline, right?
And we have to move forward: We only have one Earth. There are no second tries. So let's make our planet a better one.
Remember that you can learn more about Accuride by visiting https://www.accuride.com/. You can also find us on Facebook, Twitter, and YouTube.