Experience Cabinet-Level Access Security
Featured Product from Accuride International, Inc.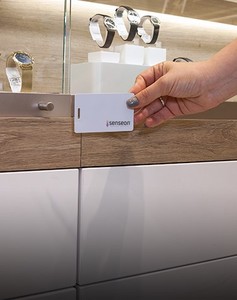 See How>>Senseon - Easy to Use, Program and Install
Experience Cabinet-Level Access Security
See the new Senseon Secure Access System! Watch videos, see product information, and find out how Senseon Works.
Senseon is the all-new electronic lock secure access system. Flexible, intuitive, and secure, Senseon's invisible RFID reader integrates seamlessly into commercial or retail environments. Senseon safely secures your inventory while eliminating metal keys. Have total control over access, flexibility in design, and give your customers a fantastic shopping experience.
Watch>>Accuride Corporate Video
Over the years, Accuride has developed an unparalleled level of engineering expertise in product design, tooling, and manufacturing. We guide our clients from the initial concept to product integration.
Product Design
Accuride offers a wide variety of off-the-shelf and custom solutions. We work closely with our customers to develop practical and cost-effective solutions. Whether it's a single component or an entire assembly, we have the resources to make it happen. Prototypes can be made in zinc, aluminum, plastic, and steel.
Tooling
Our North American facilities feature the largest tooling operation in the industry. Accuride's technical staff builds and maintains all tools including progressive dies and roll forms. Our standardized methods ensure identical tools and manufacturing results at all facilities worldwide.
Manufacturing
Accuride can reliably handle projects of any size. We purchase more than 100,000,000 pounds of steel per year and have in-house steel mills that offer the advantage of design and production flexibility. As the largest zinc plating manufacturer in the world, we plate over 75,000,000 sq. ft. of material per year. Accuride was the first slide manufacturer to electrocoat ball bearing slides and we've developed finishes that vigorously resist corrosion.
Moving Forward
Accuride is proud to provide movement solutions to several industries worldwide and we look forward to expanding our horizons in the years to come. As we continue to thrive and grow, so will our dedication to high-quality products, fair prices and loyal partnerships.