Heavy-Duty Performance. Infinite Possibilities
Featured Product from Accuride International, Inc.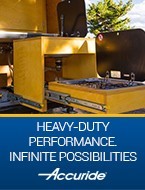 ACCURIDE 9300 SERIES:
THE STANDARD IN HEAVY-DUTY MOVEMENT
SHOP NOW
Explore Accuride's Best-Selling 600lb 9300 Heavy-Duty Slides
The standard for heavy-duty movement solutions. The 9300 Series sets the bar with a 600 lb. load capacity, full-extension design, and lengths up to 60" and widths of 42". Exhaustively tested for lasting quality, the 9300 is premium movement you can rely on.
ACCURIDE IN ACTION
Voyager Campervans is a Minneapolis-based startup that is currently producing some of the most groundbreaking campervans on the market. Voyager campers have gotten lots of attention for their innovative storage solutions and hidden pull-out furniture. See how Voyager used Accuride 9308E Heavy-Duty Slides to achieve a breakthrough space-saving design.
READ MORE
Check out Accuride's blog to stay current on the latest news, design changes, industry trends and newest innovations
Watch>>Accuride Corporate Video
About Accuride
Accuride is a global presence with extensive resources, a deep understanding of design and manufacturing, and a reputation as a pioneer in the development of quality movement solutions.