Medium-Duty Linear Track System
Featured Product from Accuride International, Inc.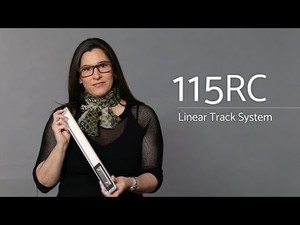 115RC
Medium-Duty LInear Track System
Seamless movement paired with infinite possibilities. The endlessly versatile 115RC Linear Track System contains lightweight, corrosion-resistant tracks that can be side, flat, or vertically mounted—offering reliable guidance to movable walls, sliding racks, screens, panels, partitions, and even assembly lines.
Aluminum track available in two lengths: 47" and 94," with and without pre-drilled holes
Track may be cut down to desired length or butted together to extend length
Recirculating ball carriages in two options: stainless steel ball bearing carriage or polymer ball bearing carriage
Multiple carriages may be inserted into tracks. Carriages may be used separately to provide independent movement, combined as a unit, or both methods within one track
RoHS-compliant
Corrosion-Resistant
Accuride offers many corrosion-resistant movement systems. These include stainless-steel telescopic slides, specially coated drawer runners, aluminum tracks, and more. We'll give you a strong and tested solution to meet any need and adapt to any challenge.
Check out Accuride's blog to stay current on the latest news, design changes, industry trends and newest innovations
Watch>>Accuride Corporate Video
About Accuride
Accuride is a global presence with extensive resources, a deep understanding of design and manufacturing, and a reputation as a pioneer in the development of quality movement solutions.