High Cycle Shock Absorber
Featured Product from ACE Controls Inc.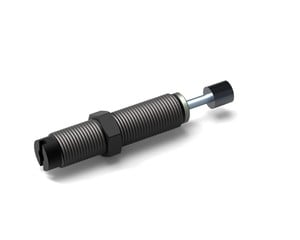 ACE Controls announces the introduction of the new SC 300-HC High-Cycle industrial shock absorber for high-speed production equipment. The quick rod-ready time and short stroke translate to faster cycling and gains in production time.
Additional features include rapid repeat strokes and quick time through stroke. The SC 300-HC is ideal for packaging industry equipment and rotary actuators. Additional applications include: slides, small and medium robotics, machine tools, pick & place operations and more.
ACE Controls Inc. is an ISO 9001:2000 certified manufacturer with a global customer service network that includes offices in England, Germany and Japan with distributors in over 110 cities in 35 countries. The product lines of ACE Controls include: industrial and safety shock absorbers, gas springs, hydraulic dampers, rotary dampers, feed controllers, TUBUS elastomer bumpers and NuCushions for pneumatic cylinders.