Industrial Shock Absorbers
Featured Product from ACE Controls Inc.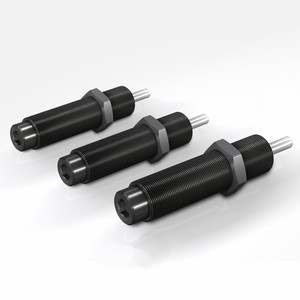 ACE Controls announces the introduction of the new MC 150H3, MC 225H3 and MC 600H3 industrial shock absorber models offering significantly increased effective weight ratings.
These new models offer twice the effective weight range of current H2 models and are ideal for handling heavier weights moving at slower speeds. Effective weight ratings for the 3 models range from 400 lbs (181 kgs) to 10, 000 lbs (4,536 kg). ACE industrial shock absorbers decelerate loads, prevent impact damage, improve product performance, increase cycle speeds and dampen noise.
ACE Controls Inc. is an ISO 9001:2000 certified manufacturer with a global customer service network that includes offices in England, Germany and Japan with distributors in over 110 cities in 35 countries. The product lines of ACE Controls include: industrial and safety shock absorbers, gas springs, hydraulic dampers, rotary dampers, feed controllers, TUBUS elastomer bumpers and NuCushions for pneumatic cylinders.