Industrial Shock Absorbers MAGNUM® Sub-Zero
Product Announcement from ACE Controls Inc.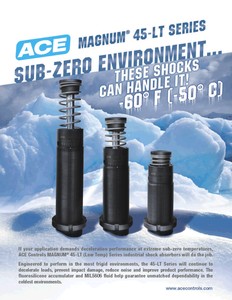 If your application demands deceleration performance at extreme sub-zero temperatures, ACE Controls MAGNUM® 45-LT (Low Temp) Series industrial shock absorbers will do the job.
Engineered to perform in the most frigid environments, the 45-LT Series will continue to decelerate loads, prevent impact damage, reduce noise and improve product performance. The fluorosilicone accumulator and MIL5606 fluid help guarantee unmatched dependability in the coldest environments.
---