SLAB Damping Plates for Shock Absorption
Product Announcement from ACE Controls Inc.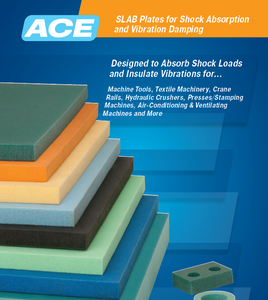 Designed to Absorb Shock Loads and Insulate Vibrations for Machine Tools, Textile Machinery, Crane Rails, Hydraulic Crushers, Presses/Stamping Machines, Air-Conditioning & Ventilating Machines and More.
SLAB damping plates of the SL-170 to SL-720 are universally applicable elastic PUR materials that are manufactured according to a patented formula and which are used throughout industry.
The standard densities of 170 kg/m³ to 720 kg/m³ serve as vibration insulation in a wide variety of applications. For specific applications, special designs with specific densities can be manufactured.
The static and dynamic product characteristics are precisely defined. The effectiveness of elastic suspension can be calculated in advance. The necessary parameters are shown on a respective checklist.
---