933 Pneumatic Pinch Valve
Product Announcement from Acro Associates, Inc.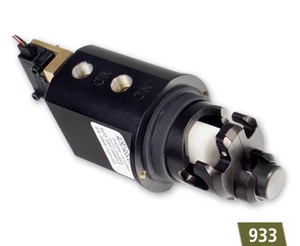 The 933 series occluder is a robustly designed dual acting air operated pinch valve, that is available for either normally open or normally closed operation. The 933 is controlled by a user supplied air control valve. This series handles tube sizes from 0.250"(6.4mm) to 0.375"(9.5mm) O.D. The 933 is designed to work with either rubber or plastic tubing and is suited for pressure and vacuum applications. Panel mounting utilizing Acro's 'splash seal' allows the unit to be cleaned in place without disassembly.
Applications include pharmaceutical / cosmetics filling and dispensing, food processing, beverage filling and dispensing, industrial / chemical processing and waste fluid management. The 933 incorporates a manual override and Acro's 'snap-in' tube loading feature for easy tubing installation.
Features:
· Base or Panel Mounting
· Splash Seals
· Multi-Million Cycle Life
· Snap-In Tube Loading
---