955 Electric Pinch Valve
Product Announcement from Acro Associates, Inc.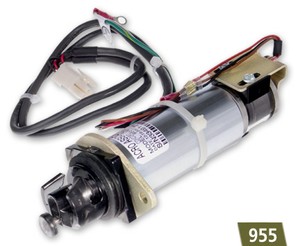 The 955 series occluder is a two-way, normally closed, electrically operated pinch valve. This series handles tube sizes from 0.125"(3.2 mm) to 0.187"(4.7 mm) O.D. The 955 is optionally available with a plunger position sensor and noise reduction. The 955 is designed to work with any flexible tubing and is suitable for pressure and vacuum applications. Panel mounting utilizing Acro's 'splash seal' allows the unit to be cleaned without disassembly.
Applications include I.V. systems, blood collection / processing, analytical instrumentation. Panel mounting and snap in tube loading features are ideally suited for disposable tube set applications.
Features:
· Panel Mounting
· Easy Cleaning
· Splash Seals
· Snap-In Tube Loading
· Position Sensing
· Custom Color Matching on Rubber and Plastic Parts
---