Acrolab Heating & Cooling Mold Design Systems
Featured Product from Acrolab Ltd.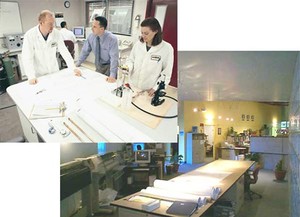 Acrolab's amazing Isobar® Heat Transfer Systems solve the challenges of translating design to the manufacturing process when utilizing today's more advanced materials (which increase product life) for the manufacture of more intricate and complex medical equipment molding applications.
Enabling more discrete control over the process, these custom-engineered Isobar® Heat Transfer Systems provide more uniform temperature distribution across the surface of your tooling to increase your cycle time from simple, multi-cavity molds to larger, high volume, multi-cavity molds.
The Isobar® Heat Transfer System delivers near-isothermal conditions to all mold surfaces and uses the Isobar® heat pipe, a super-thermal conductor, as the primary component. This heat pipe transfers energy into areas of the tool that would otherwise require complex and intricate design considerations and it also facilitates the transfer of energy in both directions; from heating at the start of the cycle, to cooling at the end of the cycle.
Additional benefits of the Isobar® Heat Transfer System include:
Faster cycle times
Reduced scrap
Simplified maintenance procedures
Consistent production of molded parts of superior quality
Many medical equipment manufacturers, such as BD Medical, are already experiencing the benefits of Isobar® Heat Transfer Systems from Acrolab in the production of syringes, special connectors, prosthetics, as well as electrical cooling platforms for analyzers, centrifuges and storage devices.
And the good news is...there is no need to change your existing mold control system, no special processing considerations and no unique or specialized temperature controls required to operate this system! The Isobar® Heat Transfer System resides entirely within the mold. It is as robust as the mold itself - designed with proper care to outlast the life of the mold. The system can be designed into new molds or retrofitted into existing ones.
Be sure to contact Acrolab for assistance in the development of your next medical equipment mold design!