Resistance Temperature Detector RTD Assemblies
Featured Product from Acrolab Ltd.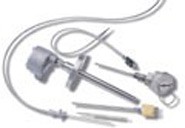 Acrolab's Resistance Temperature Detector RTD Assemblies utilize wire wound platinum elements and are of the "filled tube" or "MgO" construction, providing long operating life in high vibration and/or temperature applications. Acrolab offers standard and custom manufactured temperature sensors that are suitable to any industry.
Click here to speak with one of our experienced professionals about any application questions you may have
Common Applications Include:
plastic injection
medical/pharmaceutical
chemical
oil & gas
food
dairy
agricultural
general industrial applications
Features:
Element Types - Single platinum elements of 100 Ohms at 0 degrees centigrade and duplex elements of two 100-Ohm elements inside the same sheath are both available as standard. Elements of other resistive materials such as copper and nickel are available on request.
Self Heating - The self heating effect @25 degrees centigrade in water flowing at 3ft./sec. on a 3/16" OD SS sheath diameter RTD is 50 MW/degrees centigrade typical.
Standard - Exitation current and voltage 2mA @ 24 VDC.
Time Constant - The time constant for a 3/16" OD SS sheath diameter is 2.0 seconds typical.
Temperature Range - The standard temperature range is -100 degrees centigrade to 260 degrees centigrade. Higher ranges available (up to 550 degrees centigrade) on request.
Element Leads - Leadwire is stranded, silver plated copper with teflon insulation for low range units and stranded, silver plated copper with fiberglas insulation for high range units. Three lead wires are recommended to compensate for lead wire resistance in industrial applications.
Leadwire Insulation - Maximum temperature rating; 260 degrees centigrade teflon and 550 degrees centigrade fiberglass.
Standard Terms and Conditions
A minimum order may apply. Quotes are valid for 30 days. Changes in quantities may affect pricing. Delivery times are based upon stock levels at time of quotation and are subject to change. Terms are subject to credit approval. MASTER CARD and VISA accepted. Company terms, net 30 on approved credit.
Taxes and shipping are extra.
Call the Acrolab Order Desk today!
· 1 800 265 9542 Toll free in North America
· 1 800 465 9674 Fax
· 519 944 5900 Direct