Thermal energy at a rapid pace w/ electric heaters
Featured Product from Acrolab Ltd.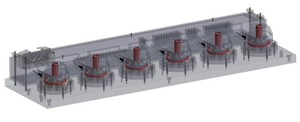 HEATING ELEMENTS
Electric heaters are used in many different types of industries and applications. Their ability to deliver thermal energy at a rapid pace under a controlled setting allows for use in a large versatile range of applications. We offer a wide variety of heating elements to fit the needs of many industries including; Packaging, Plastics, Composites, Rubber, Agricultural/Food Processing, Oil and Gas, and commercial. Find the heater that is right for you, or contact our team today to recommend a heater that is right for your application.