New Ethernet I/O Module combines three functions
Featured Product from Acromag, Inc.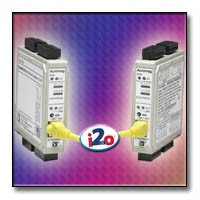 Acromag released their new 951EN and 952EN "Combo" Ethernet I/O modules with four analog input channels, two analog output channels, and six discrete input/output channels on a single inch-wide unit. This mix of I/O can reduce costs significantly by replacing the need to buy three different I/O modules. The modules support Ethernet/IP and Modbus TCP/IP protocols as well as Acromag's own i2o™ communication technology. The i2o (input-to-output) function allows input channels on one module to send measured signal data directly to output channels on a remote module across any Ethernet media without a PLC, PC or other controller in between. Since the Combo modules have inputs and outputs, they can function as both transmitters and receivers to independently interface signals across the plant or around the globe. No software is required because the setup uses a standard Internet browser to configure an embedded web page. The 12-channel I/O modules are priced at just $695 each.
The six discrete I/O channels can be implemented as inputs or outputs in any combination and feature built-in "loop back" monitoring abilities. Each channel has circuitry for both sensing and high-side switching of discrete logic signals (5-36V DC logic). With this design strategy, all channels remain inputs unless they are written to, in which case, that channel becomes a sourcing output. Thus, when a discrete output channel switches on or off, users can read it back thru a discrete input register tied to the same channel for positive feedback. No extra wiring or looping back to another physical channel to verify the integrity of their outputs is required. The four analog input channels on 951EN models accept 0-20mA, 4-20mA, and 0-1mA DC signal ranges while the 952EN models take in bipolar voltage ranges of ±10V, ±5V, and ±1V DC and transmit the data across the network. The analog output channels receive the data and provide 0-20mA, 4-20mA, or 0-1mA DC control signals for displays, drives, recorders, or other instruments. Industry-standard Ethernet/IP and Modbus/TCP network communication protocols are supported. Additionally, Acromag's own i2o technology allows two 95xEN modules to talk "bi-directionally" to each other or with other modules in the 900EN series without a controller in between. It is ideal for simple remote I/O applications where sensor signals at one location must be displayed, recorded or monitored at another site (local or long-distance), but programming a centralized host controller is not desirable. The concept is similar to a basic signal conditioner which takes in a sensor signal and outputs a control signal, except that the input and output circuits are in separate units and linked over Ethernet. Analog input channels measure current or voltage signals at Point A and transmit the data to another unit with analog output channels that provide proportional 4-20mA or 0-10V DC output at Point B. Discrete inputs and outputs control local devices based on the on/off status of a remote device. For instance a light will switch on in the control room when a motor is in operation. Wiring costs are minimal because the I/O modules communicate between IP addresses across existing Ethernet network infrastructure, CAT5 cable, fiber optic lines, or via wireless radios.
"SCADA users in power, water, and gas industries are very excited about eliminating monthly leased-line costs by using Ethernet i2o for remote I/O," stated Acromag Sales & Marketing Director Don Lupo. "Machine builders can easily implement a way to monitor operation from an operator's desk or from an office in another state." Each I/O module has its own Ethernet Modbus TPC/IP port making it easy to connect the modules to each other with up to 100 meters of CAT5 cable. For longer distances or to reduce wiring, the I/O modules connect to a switch or radio modem to tap into copper, fiber, or wireless networks. Using a standard web browser, a simple configuration menu maps each input channel to an IP address and register for the output module. This process eliminates the need for a controller to poll the input module and transmit the data to the output module. Updates are user-defined for time-based or change-of-state.
All units operate off standard 12-36V DC power supplies for greater flexibility. They also carry CE approvals and UL/cUL listing for Class I Division 2 installations. Three-way 1500V AC isolation separates the I/O, network and power circuits to prevent damage from surges and ground loops. An internal microcontroller processes the I/O signals and directs all operations. Built-in watchdog timers continuously monitor network communications while self-diagnostic routines simplify maintenance and troubleshooting. A failsafe mode can also be set to ensure outputs are sent to a safe state if a failure occurs. Integrated non-volatile memory provides reliable storage of the configuration parameters. And to visually confirm proper operation, LEDs indicate power, network activity, and individual channel status.
Acromag is an international corporation that has been manufacturing and developing measurement and control products for more than 45 years. Acromag offers a complete line of industrial I/O products including process instruments, signal conditioning equipment, data acquisition boards, distributed I/O systems, and communication devices.
For more information about Acromag products, call the Inside Sales Department or Marketing Communications at (248) 624-1541, (800) 881-0268, FAX (248) 624-9234, or write Acromag, Inc. at P.O. Box 437, Wixom, MI 48393-7037 USA. Information is also available on the Acromag web site at http://www.acromag.com.