New Quad-port Gigabit Ethernet XMC Modules
Featured Product from Acromag, Inc.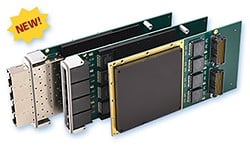 Acromag's new XMC610 Series modules provide four independent gigabit Ethernet interface ports when used on VME, VPX, PCIe or other embedded computing carrier boards. The industry-leading Intel® I350 Ethernet Controller interfaces with the PCIe bus via four high-speed serial lanes on the XMC P15 connector.
Three models are available. The XMC611 model offers four RJ45 connectors on the front panel for copper cabling while the XMC612 substitutes four SFP connectors to additionally support fiber optic media. The rear I/O model XMC613 routes four 1000BASE-T connections to the P16 connector and is compatible with conduction-cooling frames.