XCOM-6400: Rugged Intel® Core™ i7/i5 CPU
Featured Product from Acromag, Inc.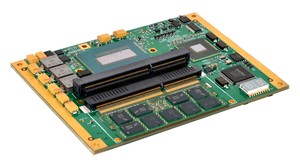 Sensor Concepts Inc. Selects Acromag's Processor Board for use in their New InfiniSCAN Product Line.
Acromag's XCOM-6400 rugged COM Express processor featuring an extra-thick circuit board, advanced thermal management, and extended operating temperature is the ideal high-performance processor for the InfiniSCAN.
Sensor Concepts Inc., a manufacturer of dedicated inspection equipment used by the DOD for maintenance of their Stealth fleets, is in development of a new line of integrated measurement systems known as the InfiniSCAN family. The first entry for this product line is a handheld variant that is designed to be used in and around aircraft hangars with fueled aircraft present. As such, the design of this equipment must be evaluated to meet stringent US (Class I, Division 2) and European Union (CE ATEX) requirements for hazardous locations.
The design required adherence to hazardous location requirements that drove SCI to choose a conduction cooled processor like the XCOM-6400, a product from Acromag, Inc. Although the original intent was to use the power management system to reduce processor throughput and keep the board operating under 20 watts per hazardous location requirements, SCI chose to proceed with a design based on the XCOM-6400-108E-LF that allows full processor throughput. This required SCI to design the board into an enclosure to meet the sealed device requirements for CE ATEX.
The XCOM-6400-108E-LF board features a tight heatsink integration for conduction-cooled applications plus high temperature performance (no degradation in full processing performance at 60°C ambient).
A few of the leading factors for SCI to choose Acromag for this application are they offer direct engineering support during the design and development phase. Full production documentation support necessary for hazardous location evaluation is also provided by Acromag.
About Acromag
Founded in 1957, Acromag, Inc. designs and manufactures hi-tech industrial electronics. They are an international corporation headquartered near Detroit, Michigan with a global network of sales representatives and distributors.